CONTACT ME AT
joopriemens@gmail.com
For information about the camera's !!:
I will put a number of cameras on my website , that where from the collection of a good friend of me, who passed away during Covid begin this year.
He had a big collection, +/- 700+ cameras all in "like
New

" condition.
I do this for his wife ,to give here all the money so she can live the life she had when they where
together.
If you like to receive the list with all the cameras I have for sale, mail me at  

:

joopriemens@gmail.com
Fore Sale
STEKY CAMERA MADE IN JAPAN NICKEL IN WOODEN BOX WITH PAPERS
€275
STEKY CAMERA MADE IN JAPAN NICKEL IN CARDBOARD BOX WITH PAPERS.
€ 265
ACMEL MX RED IN ORIGINAL BOX HARD TO FIND
€225
TOP II CAMERA WITH CASE & BOX &PAPERS.
€110
TOP CAMERA WITH CASE
€85
STEREO HIT CAMERA
€ 190
BOOK  CAMERA BOTANICUS FOR 110 FILM
€ 90
VISCAWIDE SUBMINIATURE PANORAMA CAMERA
€185
LIGHT GREEN CAMERA -LITE.
€800
DARK GREEN CAMERA_LITE IN ORIGINAL BOX COMPLETE WITH PAPERS.
€1200
MEISUPI II SIDE BY SIDE TWIN LENS CAMERA NO NEED DARKROOM.
€775
PETAL OCTAGONAL MODEL
€875
SUZUKI CAMERA-LITE MODEL A  LIKE NEW
€625
ACMEL M RED RARE COLOR
€ 225
PRINCE HIT TYPE CAMERA BROWN LENS RING. RARE
€200
ARROW CAMERA CHEAP STYLE MADE  
€35
MIDGET HIT STYLE  CAMERA RARE
€185
HIT CAMERA BLACK ARROW STYLE COMPLETE IN ORIGINALE BOX
€55
ACMEL M BLACK SMALL VERSION OF THE MX
€145
ACMEL MX BLACK
€125
MEC 16  IN ORIGINAL BOX
€200
COSMO OMEGA LIGHTER-CAMERA ALL  COLORS IN ORIGINAL POCKET.
€ 750
JOHN PLAYER SPECIAL "SPY CAMERA" WITH BOX AND FILM Letters fading. works.
€350
PETAL ROUND SMALLEST MINIATURE CAMERA
€475
GOERZ MINICORD BLACK COLOR WITH ORIGINAL BOX AND INSTRUCTION BOOK.
€ 375
BOLSEY 8 FOTO/FILM SUBMINIATURE CAMERA .
€ 300
F21 AJAX RUSSIAN SPY CAMERA WITH SPRING MOTOR FILM ADVANCE.
€ 300
MIKROMA STEREO GREEN
€ 275
MIKROMA II GREEN
€ 175
VERY RARE PRINCE CAMERA WITH STRIPS ON LENS RING
€ 225
MYRACLE MODEL II BLACK COVERING.
€ 200
CAMERA-LITE LIGHTER CAMERA MODEL A.
€ 700
MIDGET HIT CAMERA WITH THICK LENS RARE
€ 275 
MEIKAI  NO 1 PATENT  SIDE BY SIDE TWIN LENS CAMERA
€700

HOBIX A BOLTA SIZE CAMERA ART DECO FRONT.
€ 95
MINETTA HIT CAMERA
€ 55
BOLTAX PICNY D CAMERA
€ 200
BOLTAX III CAMERA
€ 175
SNAPPY CAMERA "PATENTS"
€ 215
KUNIK X2RJ OMPEX CAMERA HAMERTONE GREEN/GOLD "RARE"
€ 150
HOMER COMPLETE WITH CASE AND BOX.
€ 70

HIT CAMERA IN BOX COMPLETE.
€ 45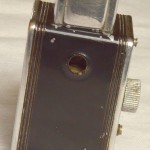 MINO FLEX LIGHTER NON CAMERA
€ 135