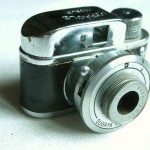 MYRACLE CAMERA MODEL II
Manufacturer : Sugaya Koki Sugaya Optica CoLtd Japan
Dates: 1950
14×14 mm on 17,5 mm rollfilm.
Better hit type camera .
Lens: Hope Anastigmat f 4,5
Shutter : 1/25-1/100 and B
Plane face plate with Sugaya Model II on it
Bottom stamped : Made for Mycro Camera Co.Inc N.Y.
This is the black model with the chrome face plate ,can also be found in Red ,Green and Bleu .
Back loading model.