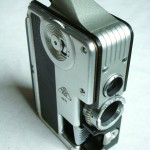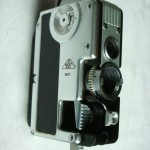 MINICORD  BLACK
Manufacturer : Goerz,(Optische Anstalt C.P.Goerz Vienna Austria
Date's : 1958
Subminiature TLR for 10x10mm exposures on 16mm film in special cartridges .
Goerz Helgor f2 /2,5cm Lens .
Metal focal plane shutter 1/10-1/400sec and B.
Has a contact for bulb and flash synch added to the side.
Black  leather with chrome parts .
Exists also in Brown/Chrome, Gold metal with red or green leather .